Dark Water
Saturday, August 4th, 2007 6:54 PM
Dark Water is an atmospheric film horror film starring the beautiful Jennifer Connelly playing a downbeaten divorcée who encounters creepy problems when she's forced to move into a new apartment building. It features the same themes as the Ring: water as a ghostly manifestation, a little girl who needs peace, and it's no surprise since it was written by the same author. The emotion of the film is surprisingly effective especially at the end, but as a whole, the film leaves your unfulfilled. There are only a few surprise moments along the way (which I don't care for personally anyway) but there's a really scary moment near the end featuring a blue robe. It, like the film, is scary more for the atmosphere and the psychology of the scene, but I found it very effective. As for video, the film looks pretty good in 1080p in a 2.35:1 transfer. The image is muted, dark and as expected, the colors don't pop. I didn't notice any real problems with the image but it's not the best image I've seen on Blu-Ray. The audio is fine and features a 5.1 uncompressed track as well as regular Dolby Digital 5.1 tracks, including Spanish and French. The supplements are meager as well featuring two deleted scenes and two analysis of scenes by the production crew disappointingly in standard definition. In the latter we see another scene that was cut from the film, the so-called "Wall of Water." The menus are okay, featuring text that pops up as you select it—nothing mind blowing—which is surprising considering the cool choices the designers could have went with a watery theme. An audio commentary would have been a welcome addition. We also get Buena Vista's Movie Showcase that supposedly selects demo material from the film. Like all Disney (Buena Vista) Blu-Ray films it features annoying antipiracy commercial with horrendous music, a carryover from their DVDs, which frankly I didn't think is needed given all the DRM on Blu-Ray discs. Overall, the movie is worthy of a purchase for fans of the film but given the lack of extras, for everyone else, this is a worthy rental.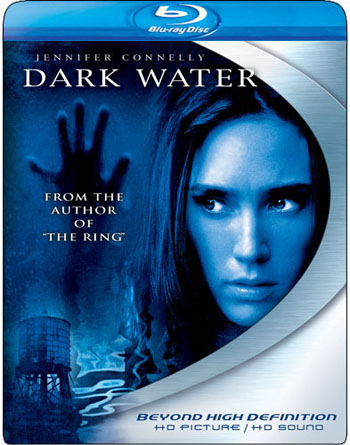 ---
It was Minty ...
Thursday, July 26th, 2007 6:03 PM
Zodiac (2007)
Zodiac is hands down one of the best films I've seen in 2007. It was an unexpected movie from my favorite director and despite this I went into the theater expecting the worst because of the dry subject matter. Thankfully, this movie was nothing like my expectation. While it runs a little over 2.5 hours long, I never felt a minute of it. The movie is edited so tightly, the excitement never dissipates.
Because I eagerly awaited the DVD, I was somewhat disappointed to find that this release would not have any supplements or be accompanied by a high definition version as originally planned. The silver lining to this is that with a little patience, David Prior, producer of such Fincher discs as Panic Room and Fight Club, will give us the Zodiac SE in 2008, which is expected to be a 2 disc set and hopefully will be packed with extras. This release is also expected to coincide release with the HD versions, which were postponed only today (the theatrical cut was originally expected on release day, July 24th 2007, then September 18th, and now sometime in 2008).
What we get here is a DVD-9 fully devoted to allowing Zodiac to breath and because of its running time, that's a good thing. The 2.40 anamorphic video looks very good. There is no print damage as the movie was shot in HD video and I presume this a direct digital to digital transfer. Much of the movie takes place in the dark and in the shadows, a challenge for any DVD. Compression artifacts and edge enhancement are kept to a minimum and on most monitors this will appear great. On a 720p front projector the image looks perfect. On a high resolution 1080p+ monitor, the compression artifacts are noticeable near the top of the frame but not distracting. Colors are muted as per the intention of the filmmaker to convey the 1960s/70s atmosphere. There are some noticeable moire patterns in certain scenes (Dr. Toschi's plaid suit, the push in over San Franscisco Bay, The Oil Refinery exterior, etc.). Overall, a very good image. That said, I can't wait for this to arrive in HD, I'm sure it will look fantastic.
The audio is clear and there are some nice surround effects but they're subtle and not overwhelming as to be expected in non-action movie.
As mentioned earlier, there are absolutely no supplements, a disappointment to be sure. I can't wait for 2008 to see the SE with the directors cut, and to see this film in HD. While this movie is fantastic and the urge to double dip is monumental, I'd recommend waiting for the SE if you can manage it.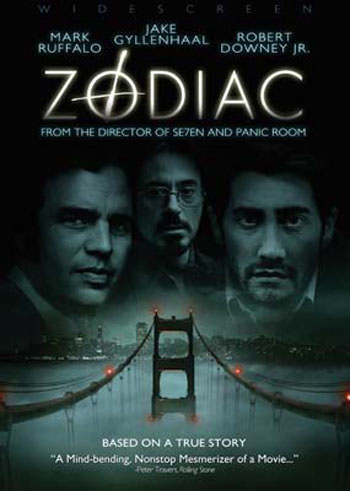 ---
St Elmo's Fire
Saturday, July 14th, 2007 9:58 PM
Growing up, I've heard a lot about St. Elmo's fire and have often heard the Jack Parr song so when the opportunity came to review the film and disc for this site, I took it. I was hoping for a gem I'd missed all these years and surely because the name was so familiar to me, it had to be a classic. Unfortunately, I could not complete the review. Some time into the film, the actors all broke out into song, and Rob Lowe started playing the saxophone. I stopped the disc. Was it because I couldn't identify with the so-called brat pack? It's true that I've never felt more alienated from a group of characters but this is not the reason I couldn't continue. Individually, I've enjoyed performances from each of the actors in this film. It's just that everything seemed hyperbolic. The characters were exaggerated stereotypes and rather nasty and the disorganized story provided little reason to continue watching them. The 80s never seemed so 80s. Rob Lowe was wearing eyeliner, dammit! I've had this sensation before, when I saw the Lost Boys a few months ago for the first time. So, faithful readers, I cannot complete this review. It's probably the only movie I've stopped because of sheer disgust, and I've seen plenty. As for the disc specs, the movie was anamorphic, and from what I saw the picture seemed pleasingly enough for a catalog release. Audio was Dolby 4.0 and was front centric. I never made it to the supplements. But if you want to be really self destructive, this disc can be had on the cheap. Frankly, I think all copies should be burned. I'm shaking as I write this and I don't know why.
UPDATE: I just found out that Joel Schumacher directed both films (the Lost Boys and St. Elmo's Fire). I don't know what it is about his films that make me react so viscerally against them. I almost turned off The Lost Boys when that muscled-longhaired oiled-up lead-singer from a rock band entertained beach goers. Like I said the 80s were never that 80s. I'm sure there are positive aspects to his films to be found somewhere. It's just that I'm not willing to look for them.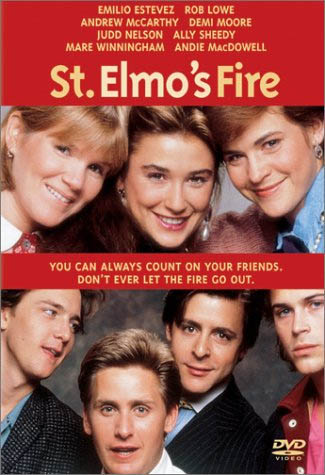 ---
That was bad ...
Thursday, July 12th, 2007 4:59 AM
Pulse (1988)
Pulse is a wonderful little curiosity from the late 1980s. HBO used to rerun it all the time, but as a horror film it doesn't have much gusto. Still the film is worth a look for nostalgia alone. Joey Lawrence plays David, who is visiting his father from Colorado, where he lives with his mother (divorce was a big theme in 1980s films). David begins to experience strange happenings and in true horror film fashion, the mysteries escalate. Only an old man, memorably played by Charles Tyner (The Outlaw Josey Wales), knows the truth. Joey also meets Stevie, a young boy from the neighborhood, who is played by Joey's real life younger brother, Matthew. The interaction between the two brothers is fun to watch, and watching little Matthew say "that was bad" all the time always makes me chuckle. Video wise, Columbia gave this disc a surprisingly good looking 1.78:1 anamorphic transfer which was supposedly mastered in high definition. This was a welcome surprise since I didn't expect such a neglected movie to get a release at all, let alone an anamorphic transfer. Audio is Dolby stereo which is acceptable. There are unfortunately no special features. Pulse is an oft-neglected film from the 1980s that is worth a look if you're a horror fan or simply an 80s movie junkie. Some might say it is boring but as a B movie fan, I am thrilled this is available on DVD.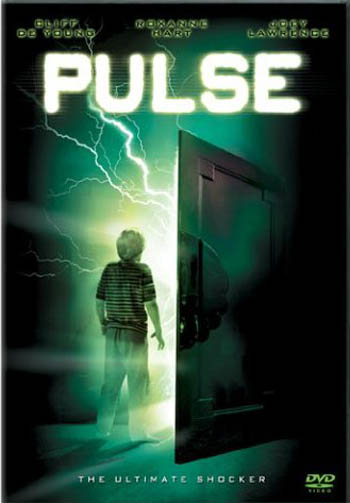 ---
After the Academy Awards aired in 2006, I really wanted to see some of the short films nominated in the Best Live Action Short category. Unfortunately, only one was available on the Internet, Cashback. However, Magnolia films had acquired the rights to these films and had been screening them across the US. Shortly thereafter, to my relief, they were available from the iTunes Music Store as a video download for $1.99 each. Recently, Magnolia Films released a DVD containing all the live action short films. All five nominated films are presented: Our Time is Up, Ausreisser, The Last Farm, Cashback, and Six Shooter. Some look better than others. Ausreisser and The Last Farm are widescreen but are presented as a letterboxed picture inside a 16:9 Windowbox. Why, I have no idea. Perhaps the source elements were video but given that these were all screened theatrically, it makes me wonder. Both of these non-english films are presented with burned in subtitles. Cashback, Our Time is Up, and and Six Shooter are anamorphic widescreen, but Six Shooter looks much more filmlike than the rest. This may again be a source element issue. Also presented are some of the animated short film nominess winner The Moon and the Son, Badger, and the Mysterious Geographic Explorations of Jasper Morello. Missing are Pixar's excellent One Man Band and 9 Two additional animated shorts are presented as special features including the excellent Fan and the Flower and Imago. There's not much else on the disc except for forced previews which was a little unexpected given this is an independent studio. The video quality ranges from poor to excellent and the audio is stereo, which is to be expected since these are not big-budget films. The menu system was one of the most awful I've ever used, however, and the authoring of the disc was unnecessarily complicated (Magnolia should look into better authoring software). Overall, I'm glad to have these films on disc given that they may have never been seen at all were it not for this release but I think Magnolia films could have done a much better job presenting them on DVD. I would wait till this disc drops in price or perhaps give it a rental if you can find it at your local video store.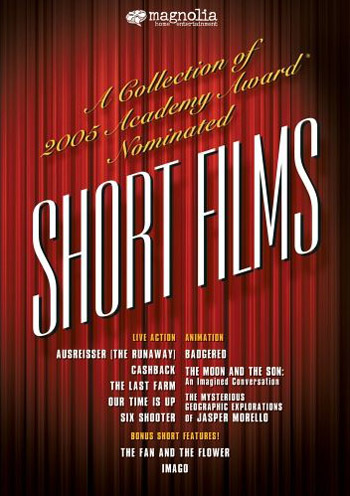 ---
Brewster's Millions
Brewster's Millions (1985) is a great remake of the story of a man who has to spend money frivilously in order to get more money. It's the ultimate fantasy which borders on a nightmare, which is what makes this so much fun. Knowing nothing about the movie until I saw it, I'll admit I wasn't intrigued enough to see the movie by the cover art alone which is almost exactly like the original 1985 poster art. That's not to say the cover art is bad. It's excellent. It features the original hand-drawn logo for the film's title with a real true-to-period feel and features Richard Prior drowing in $100 bills with John Candy smiling smugly at the camera. Thank heavens there are no big floating heads, as is all too commonplace with today's new DVD releases which modify original poster art so heavily it's a sin or disregard it completely.
On a whim, I decided to see it and I'm glad I did because this is Richard Prior at his peak—and you get John Candy thrown in as a bonus. Two comic geniuses of the 1980s working in the same film is fantastic, although Candy doesn't get to stretch his comedic muscles much but he does well in the supporting role.
.
The video is perhaps the most surprising aspect about this release. The fillm is presented in its original 1.85:1 aspect ratio, is anamorphically enhanced and looks as if it was made yesterday. The colors are vibrant, flesh tones are naturalistic, and I didn't notice any smearing or macro-blocking during pans. Thankfully, I also didn't see any conspicuous edge-enhancement which is one of my pet peeves with many of today's new releases
.
On the audio front, there's not much surround activity, but this is a comedy and that's to be expected. This is even more true since this movie was released in plain stereo in 1985. Everything is clear and hiss is under control. On the extras front, there's not much. It would have been great to have an audio commentary or at least an original making-of documentary. All we get, however, are some text-based extras which is more promotional than anything else and the original trailer in fullframe.
This is an great comedy that's fun to watch. The comedy won't make you laugh until you cry but you'll definitely have a good time. I love 1980s movies set in New York City and this doesn't fail to deliver some of those great New York locations. You can even spot the Statue of Liberty encased in it's framework of scaffolding being prepared for the 1986 unveiling. Given that this DVD can be had for under six dollars, this is well worth adding to your collection.



---
Love Actually
This was one of my very favorite movies of 2003, which surprised me because when I saw the trailer gushing about love it looked like another one of those cookie cutter movies Hollywood seems to churn out without thinking. I ended up seeing it on a whim, and loved it. Love actually was written by Richard Curtis, who wrote Notting Hill and Bridget Jones's Diary for the screen, among other British gems such as Four Weddings and a Funeral and collaborated with Rowan Akinson in writing the TV series Mr. Bean. This is his first directing gig and he shines by tying together the multiple storylines with heart, humor and candor. The actors are great and this movie features some strong performances by Hugh Grant, Emma Thompson and a very memorable one by Bill Nighly.
I was hoping the DVD would be a great two disc set but Universal has decided it only deserved one disc. Nonetheless, there are just enough extras about the making of this film to satisfy me along with the required anamorphic transfer. While the transfer is pretty good, it could have been stellar had it had a bit more room to breath. Also I think the image could be sharper at times but thankfully I didn't see too much edge enhancement. Not much to say about the audio since this is a comedy but a satisfying 5.1 mix is provided which focuses on dialogue with little activity in the surrounds.
On the extras front, you get Richard Curtis, along with a few of the cast gabbing about the film in the only commentary track. The commentary is fun to listen to with the participants engaged in pleasant banter but my belief is if you do a track like this, you've got to do one with the director alone since the conversations tend to distract anyone from giving anyone divulging any worthwhile information. Nonethless, you do learn a bit about the making of the film though I would have preferred more, which, as mentioned above, I feel I would have gotten with a solo director track.
Another substantial feature on the disc is Music of Love Actually which features Richard Curtis explaining why he chose the music featured in the film and on the sountrack. He introduces every selection with an explanation. After his explanation it jumps to the scene in the film where the music is featured.
The other major extra on the disc is about 20 minutes worth of deleted scenes some of which are good enough to have been left in the film including a humorous one with Liam Neeson and his computer, which the director alluded to in an interview in Time Magazine. I'm glad to see it made it onto the disc. Other than that we get menus that very much resemble the artwork from Robert Alman's Short Cuts and a music video.
Since this is such a great film, I was hoping for more bonus features. While the features are adequate, it could have been better as a two disc set with perhaps a making of documentary with interviews with the cast, etc. Nonetheless, due to the strength of the film, and its high rewatchability factor this is highly recommended and should be an essential part of your DVD collection.



---
Breakdown
Breakdown is an oft-overlooked gem in the suspense movie genre. It got good reviews when it was released in 1997 but not enough people went to see it. Directed and written by Johnathan Mostow, who recently directed Terminator 3, this movie grips you from the beggining and never lets you go. The tension keeps your nervous system on edge until the credits roll and you may find yourself having to stop the movie and take a break to breathe. Few movies have this effect despite them supposedly being a suspense film. While there are obvious plot holes, they fail to distract from the action and enjoyment since Mostow is firmly in control of the audiences emotions moving the film along with an assured hand. Kurt Russel is excellent in the lead role and the audience feels his anger, bewilderment and frustration. JT Walsh also does an impressive job as well.
Unfortunately the video presentation is good but could have been a lot better. This movie was released in the DVD dark ages, when studios like Buena Vista, Paramount and MGM would routinely release non-amamorphic widescreen discs, which was a head-scratcher even then. Thankfully, most studios release most of their new content in anamorphic widescreen today. Unfortunately, Breakdown hasn't seen an anamorphic rerelease but despite it being non-amorphic delivers an acceptable, sharp picture. I noticed some excessive edge enhancement as the opening credits rolled but thankfully didn't notice many during the rest of the film. That's not to say they weren't there, but rather that they weren't obvious. The rest of the video was fine, and even zoomed on my 16:9 set, it looked surprisingly good.
The audio on this disc was engaging, never distracting, and the surrounds were quite active in a few scenes. This isn't a soundtrack that will blow you away but it's decent and complements well with the subject matter.
As for as extras, you get a lousy full frame trailer and that's it. This movie deserves better.
Breakdown is an unexpectedly great film that you probably have not seen. Do yourself a favor and rent this today. I wouldn't recommend buying it until its rereleased with an anamorphic transfer at the very least. I hope Paramount gets the message loud and clear that non-amamorphic films are unacceptable. With Mostow set to direct Terminator 4, who knows maybe we'll get lucky and get a rerelease, otherwise I wouldn't hold my breath. If you simply must have this movie, buy it second hand.



---
Frasier – The Complete Final Season
The wise folks at Paramount have decided it best to release the final season of Frasier before the 4th Season was released. This, they reasoned, was a strategy designed to keep the finale of the most successful spin-off ever fresh in people's mind. I love Frasier, and for most of its run, I considered it to be the wittiest show on TV, but this decision had me scratching my head. When the set was finally released, I'm even more puzzled than before. Why treat the final season of a great show so poorly?
First, this set should have been released in 16:9 anamorphic widescreen since the show aired in HDTV for the last two seasons. When the set was first announced, the rumors indicated that this may have been the case. Unfortunately for us, those rumors turned out to be untrue. Almost every TV show that's aired in HDTV has been released widescreen on DVD. A Paramount representative mentioned that the reason it may have been released in 4:3 was to keep it in line with the other Frasier sets which were released on DVD as they aired on TV—in 4:3 full-frame. This strikes me as a bullshit reason. Firstly, because other TV shows like the X-Files or CSI, who started their run in 4:3 and were later aired in HDTV, were released on DVD in keeping with their original broadcast ratios. Secondly, the set has the markings of a rush job (see below) and I think the aspect ratio was part of it.
There are essentially no special features on this set, except some interviews with the cast that are essentially worthless. Also not present on this disc is the great clipshow that aired before the finale that featured Frasier on the couch reminiscing about his days in Seattle. That, at least in my opinion, seems like the first thing that should have been on this set. A retrospective documentary would have been nice touch too, but alas is also not here.
I ended up getting this set because it was on sale during the first week of its release and because I owned every other season released and wanted it for completeness. Unless you have similar reasons, stay away from the final season of Frasier until the folks at Paramound get it right, which is an admitted longshot.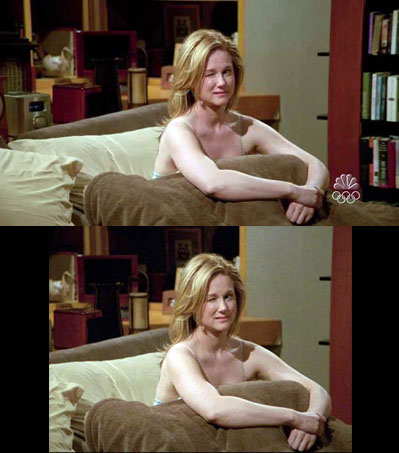 ---
Deadwood Season 1 DVD Set
I'm addicted. It seems HBO can't do any wrong when it comes to producing television series. Their string of hit shows is undeniable with Sex and the City, the Sopranos, and Six Feet Under, among others under it's belt. After seeing the first two episodes of Deadwood, I'm trapped and will have to see them all, though it may take a while with my schedule. Deadwood is that addictive. Looking back, I've done exactly what HBO wants me to—get hooked on the show right before the second season begins and in order to avoid the ultra long wait for the second season to hit DVD, order HBO. And like the aforementioned shows, the Sopranos especially, you crave the next episode like Al Swearengen's dope.
The DVD set features all 12 1 hour episodes of the first season on five discs, and a sixth disc of bonus features. While it's no match for the high definintion picture shown on HBO HD, the DVD's anamorphic picture is generally excellent since each episode has room to breath. (The first two and last disc feature only two episodes per dual-layer disc, while two discs feature three per disc, which is still in keeping with optimum bitrates). I detected no excessive edge enhancement and black levels were deep and dark which is a triumph considering much of the show takes place in candlelight or in its shadows. There are a few audio commentaries on the discs, as well as a making of featurette, which should give fans some insight behind the scenes.
The only bad thing about this and other HBO DVD sets is the price. The $99 MSRP makes it a difficult pill to swallow. Even though retailers like Amazon are selling the set for $69, that's almost $6 an episode! HBO wants to punish you for not subscribing to it's premium service, and subscribe is exactly what people may do after seeing this set after either buying the set or renting it, the latter, being in my opinion, the more sensible option. Either way, this is a great show but ultimately you will have to decide if the steep price is worth it.



---